Sunday, April 23, 2006
The Epitome of Stupidity.
People coin themselves nicknames because they don't think their original one is cute enough, or unique enough, or angmoh enough. For example, this girl called Sio Kan might find herself unsatisfied with her original name and decide to give herself a name like Hope or Destiny or Kimchi.
Twits, they can't seem to be satisfied these days. They are given beautiful names like Jacqueline or Rose or even Princess. But no, they don't like. They want speeeesheeer. Something so unique you go google it also cannot find one.
But sometimes, they tend to go too crazy with their already very limited imagination, and end up with such names. What I am going to show you, may be what your future kids want to call themselves if this trend keeps up.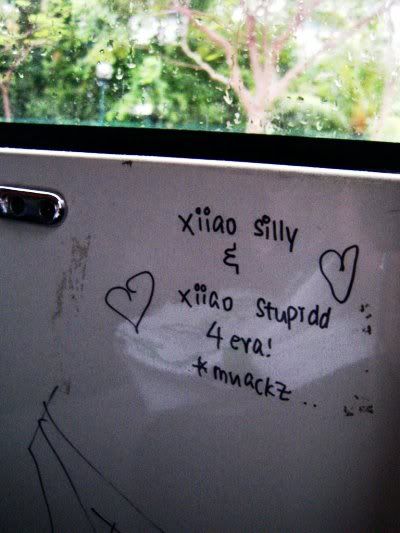 Photo courtesy of Fannyowemoney


So, unless you want your unborn daughter to be called Silly Chew or your unborn son to be known as Stupid Ng, do your part for the community and stab a twit today!
Comments:
Well I was feeling bored, so I decided to read kevin's blog for the hell of it. And lo and behold! He's linked so-called "twits" in his blog. He has twit friends!Gosh, I sure hope your friends don't hear what you've been saying about them here. You know, about them being idiots and all... o.0
Guess the bigot is a "nigga" too. Analogically speaking, of course.
Post a Comment
Subscribe to Post Comments [Atom]
<< Home
Subscribe to Posts [Atom]