Monday, October 17, 2005
SiLenT VaLenTinE - They should really be silent.
From the recent polls Mr.Pring has conducted, it seems like HVV's popularity has been going on a downslide ever since his little self-acclaimed hiatus. Just because I don't flirt on the tagboard (gives the you-kn0w-who eyes at Pring) doesn't mean I don't come up with good shit.
To make all you readers regret for not giving that vote to me, I shall write one explosive kaboom wahaha bimbambom entry that will make all of you fall on your knees right away and start burning incense for me. It will take all of you by surprise, and make all of you so in love with HVV until you call for me even at your deathbed.
Ok right. Now that the drama's over and done with, lets start with our main attraction today. Come forth, curious readers, for today I present you something your ears can appreciate. Well, appreciate might not be the best term, unless you have an acquired taste for Cyndi Wang singing death metal.
Today, I, HVV, present you, the SiLenT VaLenTinE! Or is it benchensilentvalentine, as the website says. I think I'll just stick to SiLenT VaLenTinE. Benchensilentvalentine is a whole whoopin seven syllables and it sounds mentally challenged.
Before we invite them to sing their HUGE collection of *OMGSOEXCITING fans self* 3 songs, let's check out their purevolume site and know more about them.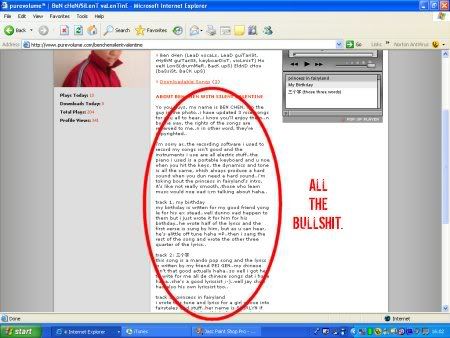 Jeez, with all the rubbish I guess I'll just break them up into smaller bits and point out to you, pore by pore why I think the whole band should just roll over and bark for a biscuit.


Alright, they belong to the genre of Pop/ Pop Punk/ Punk, which I assume they think is totally cool. Let me get this straight, so are you pop, punk, or pop punk? OMG THAT'S LIKE, TOTALLY RETARDED. Its like saying I have a dick, I have a vagina, oh wait I think I have both.
They're supposed to be a 3-man band, as said in their purevolume, but from their introduction it seems like Ben Chen's the star and Ho weN LonG and EldriD cHow are just the stage crew who oh-so-happen to know how to play a few instruments. Its such an obvious ego boost for dear Ben, to let the WWW know he's the lead vocals, lead guitarist, rhythm guitarist, keyboardist and violinist. What a list. Oh wen long and eldrid? I guess they're fine. Not convinced of his ego that's bigger than whale's balls? Read on, there's more.
1) First you were punk/ punk pop/ pop. Now you're pop/ rock emo. FYI, you're none of all that. In fact, from your songs you sound like you still have a long way to go before anyone even thinks you're pop.
2) I thought Ben and Eldrid have strong music backgrounds? Why am I only seeing three lines worth of garbage saying about Ben's all this, Ben's all that, blah blah save me please.
3) Your drummer is some kid actor? Sorry, but kid actors are losers. Even the kids don't even bother to watch those dumbfuck kids drama series and once the actors hit puberty and they find out the wonders of masturbation, they'll probably go off to some deserted island where they die in shame. And the part about how your drummer INSISTS on playing very soChisicated beats and insistent attitude adds up more to the band's sound seriously cracks me up. Firstly, out of your 3 songs your drummer only plays that small, little, part and it sounds like the drummer's only playing with one drumstick because someone who walked by got so annoyed and shoved the other one up his ass. Secondly, its soPhisticated, not soChisicated. That's like calling your mother a father.
Trust me when I say this, I absolutely obviously honestly seriously DID NOT enjoy any of the 3 pieces of trash you call songs. And don't bother copyrighting, because no one, and I repeat NO ONE's gonna steal, or even want any of your songs. In fact you should not waste all those time getting your songs copyrighted and get insurance instead in case someone hears your song and attempts to wallop the hell out of you.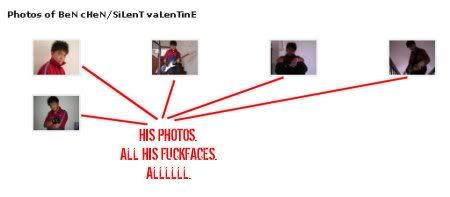 Another point up his ass for his HUGE ego. Take a look at his band's photos and its basically him, himself, and his evil long-lost twin brother, sitting around the house, trying to cover all that fats and look hot. Apparently it didn't go too well.

Well when he tries to be humble about his songs, his ego's just too big it overrides the whole idea and he starts on his little ego trip again.

You don't need an idiot to know your Princess in Fairyland sucks. Don't blame it on the piano, the introduction was retarded because you couldn't keep on beat and when you started singing my hair stood so high and my whole body spasmed like I was going to throw myself off the building any moment.
Yes, it was that bad mofos.


Alright I'm done dissing him, its time for me to go relax and laugh over the whole entry...NOT. I'm just getting started with his measly 3 tracks that sound like old people having anal sex using Nippon Paint as a lube.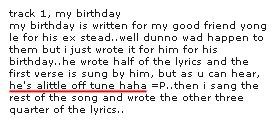 You need to get the facts straight man, your friend actually has a nicer voice than you. In fact, the moment you started to sing I had to grab something near me to prevent me from rising together with the hair on my arms. You cannot imagine how happy and blessed I felt when the song stopped to buffer and silence never sounded so good.

I thought you were punk pop, or was it emo, or rock. Oh wait you didn't mention mandopop. How many genres do you want to belong to man, and to think I thought F4 was bad. Jay Chou has his own lyricisit, sure, so do you. But my friend, you see. The difference between you and Jay Chou is he actually can sing. Sorry but I just need to sidetrack a little, I just cannot stand it and plus you made your friend name PEI GEN so obvious, I just have to say it.
Your friend's a bacon? HAHAHAHAHHAHA. Ok right that wasn't funny.

Can you imagine one day Blink-182 came up with some song titled "Princess in Fairyland"? That's probably the day I get trapped in a room full of hot girls all wanting a piece of me but I decide to turn gay instead. You think its the nicest song among all the 3 songs? Considering how much all 3 of them sucked just as bad, there's really no need for favouritism.
In Fairytale there's many bright stars.
Many twinkling stars Many Bright stars.
Like I said, its just bad.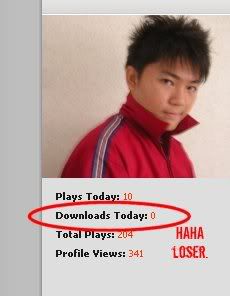 Nobody even wants to download your songs. They're too busy getting rid of all the vomit they've built up after listening it from your site.

Many of you might be thinking, why is HVV so mean to him? He's just an aspiring singer. Bullshit, I say he's just a egoistic attention seeker cum twit. Check his friendster out and you'll know why. It seems like he's been going around ours and RP's tagboard, flaming us.
Usually us at MOT don't even give a ratass about these people, but somehow his comments seem to just attract so much of my attention.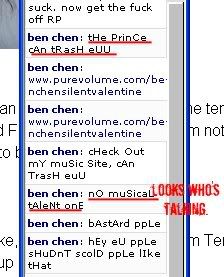 1) Everyone loves princess in fairyland? Sorry, you can minus away 1 from your everyone now.
2) Since when did MOT or RP need musical talent to blog anyway.
3) The prince can trash us? Your mother can poke your hole with her secret boner for all I care.
4) Flaming us, sure go ahead. But flaming us and expecting us to go to your purevolume? Get a life, seriously. That's what I call a desperate, and also very stupid, plea for attention.


Well Ben, I hope you've enjoyed your experience and here's a real healthy piece of advice: Give your other band members some credit, the world doesn't revolve around you and your puny dick.
And yes, one final word from us at MOT: Loser.
Tata and gooooodbye!
Comments:
Haha, I think Ben is just trying to attract people to his purevolume page.
Ben Chen, you suck, the intro for the song 'Princess in fairyland' is messed up. Even my can of Coke is shivering near the speaker. Your drums are gay as well, they sound so much like presets. Your voice, is only good for selling Durians. DURRGH!
Post a Comment
Subscribe to Post Comments [Atom]
<< Home
Subscribe to Posts [Atom]