Monday, August 01, 2005
MOT: 1, Kawaii Jesus Worshipper: 0
*There are mild hints of religious biasness in this entry, so if you can't even take a teeny weeny little comment on your religion, please don't read any further. You all should know what religion I'm talking about. C'mon, there's only one religion that gives everyone every reason to bitch about.
Ever since joining MOT, I've found much more joy in the oh so overrated friendster. In fact, Friendster have become what I do to kill time, and waste time. Everytime I see a new twit that's worth to be mentioned in MOT, my face brightens up and a bright, warm glow envelops my big, fat frame. Its like.. enlightening.
So today, we have a winner. She's none other than a priest from City Harvest Church. Eh wtf. Oops, my bad there. She's '-PrIs- from City Harvest Church! Let's take a look at this holy sngel, shall we?

kawaii mahx ? no lar jus joking cut muah hair lo not so sraithg now
My, my. She seems to be puuuureeeety uglehhh. Someone enlighten me, what the fuck is sraithg. Maybe it means stupid and fucked looking. So its loosely translated to:
kawaii mahx ? no lar jus joking cut muah hair lo not so stupid and fucked looking now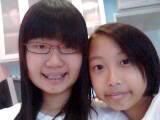 hie its mui againz who tat ger ??? the ugliest in da world ~~:P
Well then, someone tell me who made her the critic? And wtf is this mui, muah thing. If you want to use the lingo, at least have the decency to use something that's in trend and not anyhow buang your own mui and muah. For fuck's sake, my auntie is called Ah Mui.

[D]arling[L]aogong-------> Ronn[was suprised that u would fall in love wit mie even though it seemed impossible...]
Oh, so his name is Ronn? Well, I'm quite surprised too that he would fall in love and I swear to god it seems absolutely impossible because the sight of you gives me syphillis. Its probably what you City Harvest people call, God's Miracle. Oh wait.. I think I notice something in your testimonials..
' - don
24 July 2005
lols... i gort cold to u meh?? no la... where have?? haiz sad to hear u and ron break up liao... but nvm u will find another mr right soon ok??take care...=)
*GASPS* Oh dear, y.. y.. you mean its over? Well I'm sorry for bring back sad memories, Pris. I guess you SHOULD HAVE FUCKING TOOK DOWN THE PHOTOS AND ALL THE LAOGONG BULLSHIT LONG AGO THEN. Thanks for amusing me, though. He did look awfully ridiculous too.
Companies:PINKY JAPSTER COMPANY
Affiliations:PINK PINK world, City harvest church, A place beside God
Favorite Books:PINKSTER LOR haha
Wow, you've impressed me once again. You belong to PINKY JAPSTER COMPANY and are affliated to PINK PINK world? My doubts are completely gone, you are a pinkster. And a very stupid looking one, at that. Oh yah, can I have a peek at the PINKSTER book when you're done with it? It sounds amazingly pink.
Hobbies and Interests:band, music, rock, books, on the net, chatting, toking on the fone, talking crap, dancing to the para para machine in arcade, go shopping n buy pink things lo especially jap stuff, like to go out with guy friends like my kor kor like to read fashion mag especially if it is pink color, my hamsters are my 4 precious and my goin out with my gd frend cass
Wowzee. All along I thought even the liansters and gh3y bengsters gave up on the para para machine. Seems like the craze is still holding on, just like bubble tea. Do you still dance to the *yawnz* Night of Fire? Huh? You mean the para para machine has more songs than that? WOW.
I can understand you like to hang out with guys, like your kor kor (its singular form, not plural. means you only have one kor kor.) but I can't possibly imagine which sane man would want to be seen in town with you. Oh wait, I forgot about our dear wei.
So you mean you read fashion magazines only if they are PINK IN COLOUR? Obviously your wardrobe revolves around pmk, new world order and probably that few pink giodarno polo tee that looks disgustingly oversized.
Favorite Music:ani pop, band and heavy metal music 5566, SHE, jolin, ENERGY, Arvil lavgine, ayumi hamasake, linkin park, ocean ou de yang, Back streetboys, west life, Fir, Deeyah, edison, evanescence, britney spears, usual suspects, maksim, jay chou,
You're confusing me ): How can anyone like band and pop at the same time? Unless you mean SHIN yue tuan, or Mayday *rolls eyes*. Ok, that was stupid. But heavy metal and uber commercialized mandopop? Give me a break. What's your definition of heavy metal? Please don't tell me Jay Chou's Shuang Jie Gun. I will laugh till I pee in my pants and probably swallow my own poo altogether.

Who I Want to Meet:
i wanna meet god , church frends, christians , and people who will walk the walk with god...........Being in city harvest rocks ......... no more regrets jus feel that i have back slided once so don wanna make ani more mistakes le jus wanna devote my life to god God makes my life goes on After being thru a bad patch in my life i have come to understand that no matter what happens , your frends will be there for u n support u de especially church friends ..... so quick join City Harvest church NOW!!! the church rocksssss............ confirm u will like de life is like a roundabout that will go round n round after going round n round i realise mie n him are suppose to meet again that marks the begining of another of our stori realli hope it realli stays
Ohhhhkay. It hits a nerve or two here. Well sorry, but I always have this thing with Christians trying to convert others, and it doesn't make it any better now that its coming from a twit. I could just go over and break her neck there and then. For the record, Christianity and twits don't match. Trust me, I know of some who just convert because they have nothing to do on Sundays, or some who think by going to church all their sins will be erased and next week they can go fuck around again and wait for Sunday mass.
Well this whole converting thing is just like Friendster all over. You my friend, I add your friend, then your friend add your friend's friend yada yada. Its like multi level marketing your faith.
Anyhow, go ahead and add this twit as APPARENTLY, she doesn't even have half her account filled, so show some pity and adopt her into your loving friends list. I know, I'm just so sweet sometimes. Awww.

Comments:
oh~~ i loved your post especially the augest one cos i noe her, and then i HATE her, so wat you said PERFECTLY describe her. oh yes, she always say she could feel the presence of god when she go for sunday mass. WTH.SHe's just a bitch, be happy you dont noe her. really.
Post a Comment
Subscribe to Post Comments [Atom]
<< Home
Subscribe to Posts [Atom]