Sunday, July 31, 2005
My Interview with +.+*_xia0.luRbe_*+.+
This is created out of pure boredom and tomorrow-got-school syndrome. So please do not curse, flame or sue MOT if I happen to become all of a sudden very ultraman lame halfway. So now I present you, my interview with +.+*_xia0.luRbe_*+.+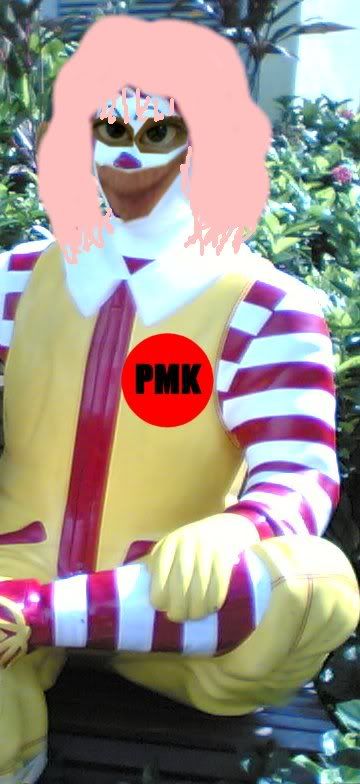 wwatashii xia0 luRbe san! bEri kawaaaii nehhx~

I sat patiently at MPCC's Starbucks, sipping onto my vanilla cappucino, waiting for our interviewee today, Xiao Lurbe who was supposed to be sitting across me 30 minutes ago. I started doodling my dog in different sex positions when suddenly the door swung open and the smell of cheap perfume intruded my sensitive trils. A short and rather plump little girl stroded in, dressed in a pink spaghetti and pink mini skirts and pink heels. She beat her own record and even carried a pink hello kitty handbag.
I thought the God of Pink was here to condemn me for chucking away my only piece of pink giodarno top. Apparently, it was Xiao Lurbe in person. I immediately raised my pink signboard that writes "LOOK HERE, XIAO LURBE." Being a pink signboard, it obviously caught her attention and she hopped towards me.

HVV: Hello erm.. xiao lurbe? You look (fucking plastic and pink) radiant today, pleasure to meet you.

XiaoLurbe: Kekex. Really? Tankew norhxx. *bends down, reveals cleavage, sits down and ooh ahh*

HVV: I'm glad you agreed to do this interview. You don't know how excited I am to meet you.

XiaoLurbe: Miee tu lehhx. Waait ah. *scribbles down her email, msn, icq, aol, handphone number, house phone number, old pager number, address, full name and ic number* Narhxx. Gib euu.

HVV: Eh? Whatever for?

XiaoLurbe: My business card larhxx. Euu next tyme can c0ntact miee lohxx. And horxx. *clears throat* add miee in friendster horx!

HVV: *must.. stop.. eyes.. from... rol..rolling* Sure, no problem. You want to order a drink first? *signals for waiter to come*

The waiter comes and asks XiaoLurbe what she wants to drink. XiaoLurbe put one finger on her cheek and tilted her head, thus transforming into Thinking XiaoLurbe! After a century or so, she finally decided she wants a Raspberry Frappucinno. The waiter got the order and walked to the counter when XiaoLurbe all of a sudden shouted at the waiter..
XiaoLurbe: DECAF HORRXXXX!
HVV: Um.. right. So XiaoLurbe, care to introduce yourself?
XiaoLurbe: yeahhx ok! *takes a deep breath and starts reciting whole of her friendster profile including who she wants to meet and her whooping 200+ testimonials with all the annoying asterix blah blah*
HVV: Wow, that was intriguing. Here, I have a pretty personal question. How do you come to know all you kors, di, mei, jies, marmie, daddy, nu er and er zi?
XiaoLurbe: ooh. dat's simple larhhx. when i surf friendster, den i see shUai sHuai deRhx and g0rt chup, den i ask hIm b mOi kor, nO cHup deRhx be my di l0Rhx. jiE and mEi oso sAme patteRn.. only dEy must be uglier den miee, so i loOk radiant and kaWaii nehx beside dem!
HVV: Wow, didn't see that coming. What about backstabbers? What makes you people hate them so much?
XiaoLurbe: Wow, I dont noe lehxx. i see everibudi hate backstabbers, i osh0 hate l0rxx. if i d0nt hate backstabbers.. where g0rt peepur want tu be miee friendd?
HVV: Right.. so, what do you think about -
I was cut off suddenly by techno music coming out of XiaoLurbe's handphone. "7 years.. and 50 days.. blah blah.." XiaoLurbe excused herself and answered the call. She started yelling in hokkien, from which I can only understand "cheebye", "kanina" and "hong kan ah". I'm not really much of a dialect person. She hung up and apologized to me as she had to go now because her stead's ex stead is threatening her stead to break with her if not the ex stead will ask her current stead to whack XiaoLurbe's stead but suay suay Xiaolurb's stead the ex stead the current stead is the kor of XiaoLurbe so now XiaoLurbe want her kor to break with his current stead and whack up her stead's ex stead.
She stormed off after explaining, leaving me without any clue what the fuck just happened. I packed my stuff and headed to the counter, deciding to be a good and honest man and pay for the Raspberry Frap that wasn't even ready. The cashier at the counter told me to keep my money as apparently, the waiter who took the order choked on his own saliva because he laugh too hard while trying to decaf a raspberry frap and is now sent to the hospital.
I shrugged and left the place, determined to find better interviewees next time.
Alright I admit, I'm too fucking lazy to continue. Maybe next time, I'll write about how I survived a whole day of K-Box with XiaoLurbe and her 843 jiemuiis. Till then, screw the twits.
Subscribe to Posts [Atom]